Thought I'd bring back one of my favorite posts.
If you're around my age, you saw
Newsies
when you were young. If you're a parent, maybe you watched it with your kids. If you haven't seen it at all and enjoy classic, simple style at its finest then watch this movie! This Disney film came out in 1992 and for 18 years, it has been one of Disney's most unrecognized, underrated films.
Newsies
has history - depicting the forgotten yet influencial New York newsboys strike of 1899 (Robert Duvall is great as Joseph Pullitzer). It discusses the essence of communication, advertising and public relations - my area of study. The musical scores, lyrics and choreography are excellent. But most importantly to this blog, the style is brilliant.
As you've seen, I love bold colors in my wardrobe and I love pattern mixing. Of course a movie about poor newsboys isn't filled with color, but these outfits are full of depth and elegance. If only all men held themselves to such standards today! Think about this. Until the past fifty years, most boys were brought up dressing in such sophisticated manner. These penniless, orphan newsboys could walk around New York City right now and be among the best dressed on the streets.
Notice the interesting lapel on the left and the excellent proportion of the vest on the right. The driver's cap (in this case, a newsboy cap) would make a fine addition to my collection.
The kid on the left makes me wish walking sticks were part of modern style. I would proudly wear the entire outfit of the next newsie over.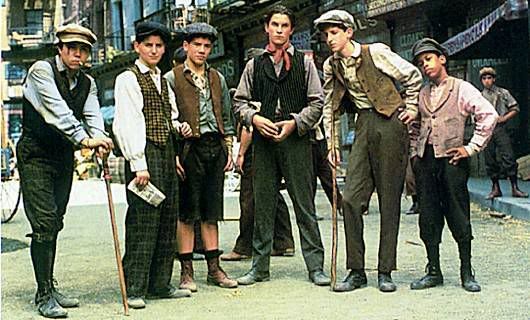 Here's another wonderful photo, just added thanks to Old Trad. The newspaper industry may be fading, but
Newsies
and its style are timeless.
Carry the banner. Live that gentlemanly manner.